Customer Reviews
09/04/2021
Erin

United States
I've only had it for a few days, but I just stare at it haha it's so beautiful and well made
08/20/2021
Shelby S.

United States
Absolutely Stunning
Every ring I buy from Oliva just cant be beat anywhere else. From quality to color to just pure unique beauty. I get so many compliments so every time I see a sale I cant help but buy more. It started with buying gifts for my friends and family and now I just get them all for myself.
07/31/2021
D

United States
I absolutely love working with Olivia! Her pieces never cease to amaze me. They're so unique and a great alternative to the traditional wedding rings. I would highly recommend RAW by Olivia Mar!
07/31/2021
Jenna S.

United States
Exceeded my expectations in every way. My Australian opal is absolutely gorgeous, and I wear it as a replacement for my diamond wedding ring that I never really wore.
07/31/2021
Jordan M.

United States
I have an opal engagement ring. Not only is it the most beautiful stone I've ever seen, but the company was so helpful and responsive in accommodating a resize after it was slightly large for my finger. The quality is fantastic and each piece is so unique. Highly recommend!
07/31/2021
Matt a.

United States
This is my 2nd ring from Olivia. I was surprised with an Austrian opal. It's beyond beautiful and unique. Highly recommend any of her custom work. Very responsive and easy to work with. She took great pride in getting me the perfect rings. Very appreciative and would order any custom ring from Olivia. Highly recommend.
07/31/2021
Beth W.

United States
I fell in love with a geode ring that was out of stock on the website. I contacted Olivia via Instagram to ask about a restock. She got back to me quickly, offered a few different options to choose from that were not going to be restocked and made me a beautiful customs ring! It's gorgeous and I get so many compliments on it
07/04/2021
Teagan

United States
I'm in love with this ring! Beautiful stone and setting. Was shipped the very next morning after ordering. Great seller!
06/07/2021
Brooklyn M.

United States
In LOVE
These rings are mind blowing. I was skeptical at first but now I am in LOVE. So glad i ordered and can't wait to order more!
04/28/2021
Jesse M.

United States
Olivia truly cares about her customers and making sure we're happy. The rings I ordered didn't fit the first time, and she so gladly and easily allowed me to exchange them. Due some postal challenges, she went WAY OVER and OUT of her way to make sure I got the rings I was so excited to have to mark my special day. Olivia's care and support along the way has made me feel special, and I'm sure she treats every person she works with the same way. I will be, without a doubt, ordering more and more pieces from her in the future. I can't wait for all the compliments I'm going to get~! Thank you Olivia for these very special rings >3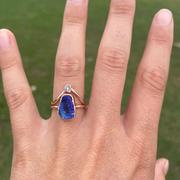 04/12/2021
chesleigh@hotmail.co.uk

United States
Used this as an engagement ring, my partner loves it.
04/12/2021
Kayla a.

United States
Obsessed!
My favorite jewelry ever!!! I love this ring so much!
04/12/2021
Sara M.

United States
04/12/2021
Stephen W.

United States
04/12/2021
Kristin H.

United States
04/12/2021
Karen G.

United States
What can I say, it is truly breathtaking. It what I was looking for. Thank you so much for your beautiful art.