Customer Reviews
11/27/2021
Kirstie

United States
I love Olivia's rings! I can't wait for my next one. This ring looks great next to my engagement ring (also made by Olivia). I get compliments on my rings all of the time and love the earthy vibes. Thank you!
Cannot be more obsesed with every ring I buy here. The color is brillaint and the quality seriously cannot be beat.
10/25/2021
Steve M.

United Kingdom
Simply beautiful
My wife is in love with her ring made by Olivia Mar. The stones are stunning and the after sales experience was fantastic. Thank you again
07/31/2021
Matthew L.

United States
Olivia provides top level service and quality products. I purchased a ring through her website and she went above and beyond to ensure the ring made it to me on time. I haven't put it on my girlfriends finger yet but when we get to Hong Kong it will be the highlight of our trip, I'm sure. Thanks Olivia!
04/28/2021
Vivian B.

United States
04/12/2021
Christine C.

United States
Beautiful ring! Very happy with my new hand candy!
04/12/2021
Samuel J.

United States
04/12/2021
Thomas O.

United States
The ring is beautiful! It has a lot of character and is not the ultra-refined look that you get from a mall jewelery store, but that is exactly what I was looking for. I would have given 5 stars, but ring was delayed in shipment
04/12/2021
Jimmy W.

United States
love my fiance's ring! exactly what I wanted.
04/11/2021
David V.

United States
04/08/2021
Arielle

United States
I am speechless over this ring. My partner is from Australia and Opal is my birthstone so I immediately fell in love with this ring. The colors are so bright and it's the perfect shape. Olivia really was so kind and patient while I picked out which Opal I liked the best (it was very hard to decide!) and I am so glad this all worked out so well!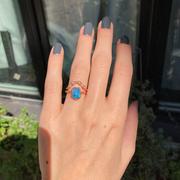 04/08/2021
MJ

United States
The rings are gorgeous. Everyone who sees them comments on how unusual and lush they are. Couldn't be happier with the rings themselves. Had some issues with the order and delivery etc but the artist was helpful and the rings arrived two days before we flew out to elope.
04/08/2021
Noel

United States
Beautiful ring. My wife loved it. We had a bit of a SNAFU with the shipping and the vendor was really accommodating and understanding. I would recommend this to anyone who wants a beautiful unconventional wedding ring/band set
04/06/2021
Natasha R.

Canada
Beautiful
These rings are absolutely beautiful. I dream for my engagement ring to be made by Olivia!